Spray foam insulation is a state-of-the-art insulation product that dramatically increases a home's thermal performance. With a superior R-value and unmatched air sealing capabilities, it reduces air leakage while providing the best thermal performance of any insulation product on the market.
HIGH R-VALUE
Spray polyurethane foam has an R-value (thermal resistance) of approximately 6 per inch of installed insulation, making it one of the highest performance insulation products on the market. This means that your home will be warmer, and less drafty, even in conventionally framed construction.
AIR SEALING
Spray polyurethane foam fills all the cracks and gaps within the cavities that it fills, avoiding the common problem of air leakage that plagues other types of insulation such as fiberglass batts. This reduces drafts, and prevents infiltration of moisture and harmful gases.
REDUCES MOISTURE AND MOLD
Because of the superior air sealing properties of SPF (spray polyurethane foam), moisture is less likely to enter your building once it's been insulated with spray foam. This reduces the risk of mold, as well as the risks of rot and structural damage that accompany water infiltration.
PROTECTS FROM INSECT INFESTATIONS
Air sealing your home can prevent pest infestations. Insects and rodents will frequently enter a home through an unsealed wall cavities, duct chases, recessed lighting and plumbing stacks in your attic. After the pest has entered your home the chances of it reproducing significatly increases. After insects or rodents have entered your home it can be almost impossible to exterminate. To keep these pests out and prevent them from infesting your home, air sealing is the most important step that must be taken to seal these points of entry.
OPEN CELL FOAM AND CLOSED CELL FOAM
We offer both open cell and closed cell spray foam products. Closed cell provides a superior air and moisture barrier, making it the most effective insulation available for energy performance. Open cell spray foam is a more affordable option that still provides an air sealing capacity and an R-value that supercede nearly every other insulation product on the market.
For more information about spray foam insulation, or to schedule an upgrade today, contact us here!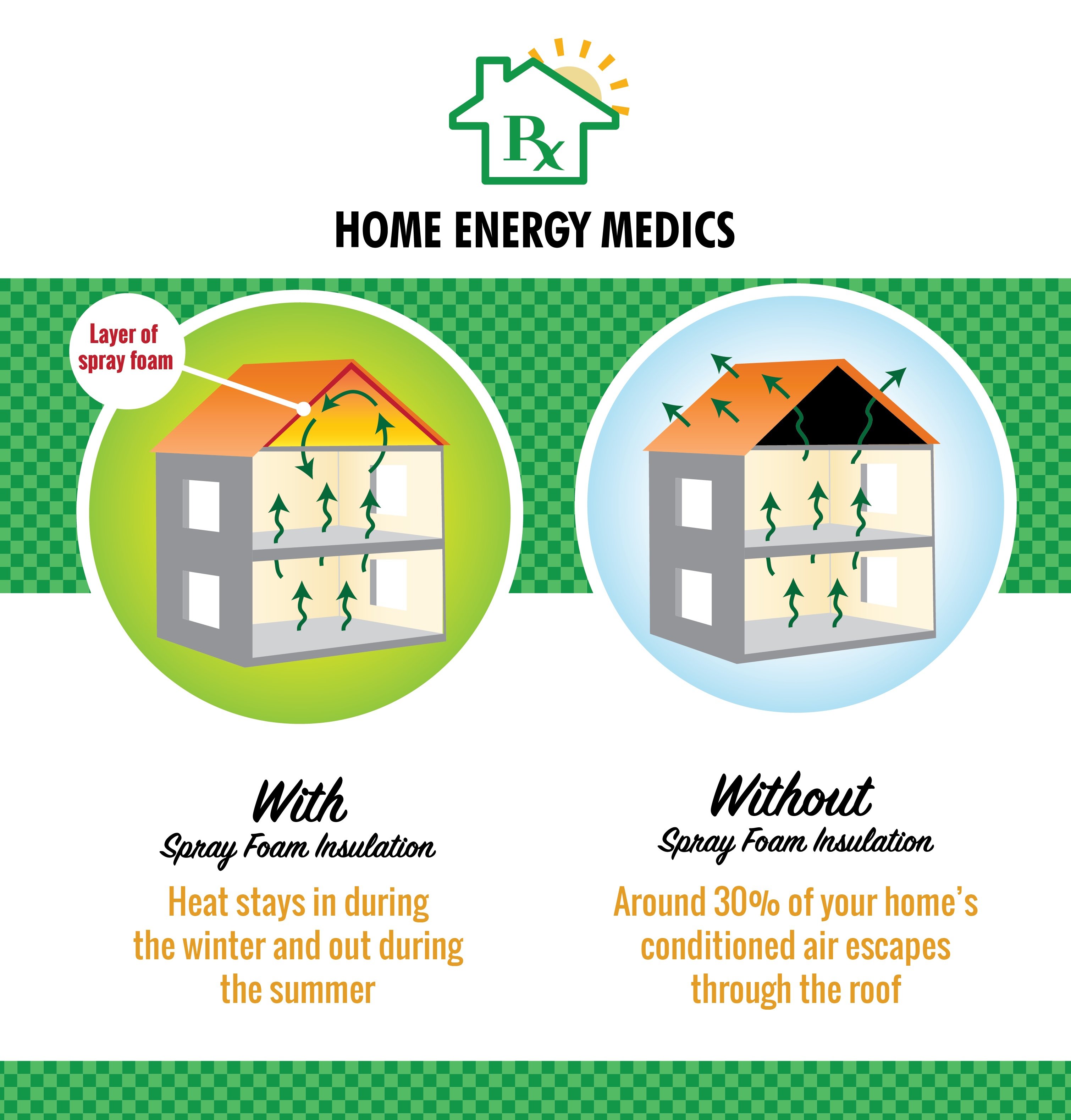 Spray foam covers all the bases for home performance.
Get started with a home energy audit today!
Looking for Duct Sealing? Did you know...
There is a substantial amount of energy loss when your HVAC system works overtime to make up for leaks and gaps in your ductwork. In addition to increased energy bills, the unnecessary strain on your system can significantly shorten its lifespan or lead to costly repairs. Air duct leaks can also create indoor air quality issues by allowing dust, allergens, and other pollutants easy access to the air circulating through your home. Having properly sealed ducts keeps these pollutants out of the air you breathe and balances temperatures, leaving your home feeling more comfortable.
HEAR WHAT OUR CUSTOMERS HAVE TO SAY
I hired Home Energy Medics August of 2021 to soundproof my bedroom. I live in a condo and could hear the neighbors above and next door to me and it was disrupting my sleep.