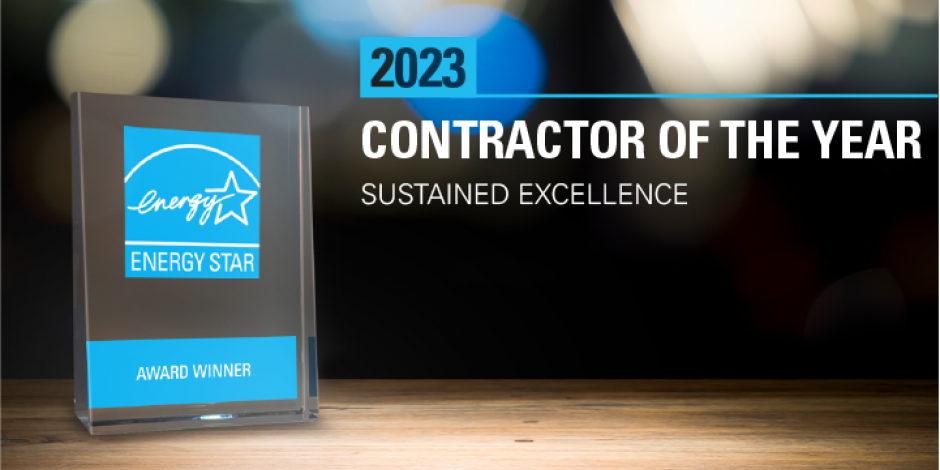 Home Energy Medics is incredibly proud to announce that we're a Home Performance with ENERGY STAR 2023 Sustained Excellence Contractor of the Year! Having won this national award every year since 2019, we are honored to be recognized for a fifth consecutive time for our exceptional customer service and expertise in the home performance and building science industry.
Now more than ever, it's important for homeowners to work with an energy efficiency contractor that has a proven track record of success and high-quality work. While it's a blast to attend the awards ceremony and catch up with other industry winners, we take the most pride in being recognized for the passion and expertise that we bring to every single job, year-round.
When you choose to work with Home Energy Medics, you'll be working with a team dedicated to delivering building science-backed solutions for local homeowners.
WHAT ARE THE HOME PERFORMANCE WITH ENERGY STAR AWARDS?
ENERGY STAR is a program jointly run by the Department of Energy (DOE) and the Environmental Protection Agency (EPA) to promote energy efficiency in the United States. Their annual awards include the Home Performance with ENERGY STAR Contractor of the Year Award, which is given to home performance contractors "that exhibit outstanding professionalism, build strong customer relationships, and apply building science solutions to improve homes.
You can see a full list of the 2023 award winners here. 
TRUST YOUR HOME WITH THE LOCAL HOME PERFORMANCE EXPERTS
With more than a decade of experience helping homeowners in the DC, Virginia, and northern Maryland metro area save money on energy bills and improve indoor air quality and comfort, Home Energy Medics has built a reputation not only for superior customer service and local expertise but as a national thought leader in the building science industry.
If you're a homeowner considering energy efficiency upgrades to your home, here's what this recognition means for you: You'll be working with a contractor who, for four years running, has been recognized nationally for their home performance business, including home energy audits, insulation and air sealing, indoor air quality solutions, and more. It means you'll be working with a company at the forefront of the latest in building science knowledge and technology.
[insert video]
The Home Performance with ENERGY STAR Award isn't our only industry accreditation either. When you choose to work with Home Energy Medics on your home, you'll be working with a company that is:
Building Performance Institute (BPI) Certified

A member of the Pearl Contractor Network

A founding member of the Building Performance Association (BPA)

A Virginia Energy Efficiency Leadership Award winner

An Angie's List Super Service Award winner

And more!
Having trouble with high energy bills or low comfort levels in your home? Contact us and talk to the local award-winning home experts at Home Energy Medics.
Save money and make your home more comfortable.
Get award-winning help from Home Energy Medics today.
Looking for Insulation? Did you know...
Just looking for additional insulation in your attic or sealing up air leaks? Did you know that making certain changes to your home can result in unforeseen consequences? That is why we always recommend a full home energy audit by Home Energy Medics prior to implementing any efficiency measures. This will provide a full view of your house, it's systems and what can be done to improve ALL areas of your home. Best of all, we refund all or part of the audit cost when you choose to have us implement the solutions.

HEAR WHAT OUR CUSTOMERS HAVE TO SAY
I knew I had problems with the HVAC in my condo when I had high energy bills and a lot of humidity. Home Energy Medics was recommended by Dominion Energy and had high reviews so I gave them a call. They recommended that I insulate the ducts in my condo.