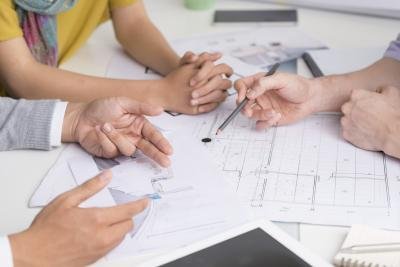 Looking for some advice on your next home upgrade project? Need a second opinion on a high-efficiency product you are considering? Home Energy Medics is your go-to for exceptional consultation services in the Northern VA, Maryland and Washington, DC areas.
EVALUATING YOUR PROJECT
Let us schedule a consultation to assess your home's present condition. Whether it's assessing new design plans, evaluating an existing structure, or otherwise, we'll act as your advocate to make sure your project is planned appropriately. Our team will be sure to work collaboratively with other involved parties (including the architect) to make sure everyone is on the same page and up to speed on the needs of your project.
GETTING THE JOB DONE RIGHT
Our consultation team will come up with a custom-made solution for you based on the scope of your project. If it's a one-time issue that needs our advice, we'll offer advice and provide a written report for your project, including appropriate references that will best suit the needs of your project. For more in-depth projects, we'll be sure to fully evaluate all the moving parts to help you find an optimal solution. We're here to help you make the best choices for your home project.
Get in touch with us to learn more about our consultation services and to schedule your appointment today!
Need expert advice on your construction project?
Consult with our experts before starting!
Looking for Insulation? Did you know...
Just looking for additional insulation in your attic or sealing up air leaks? Did you know that making certain changes to your home can result in unforeseen consequences? That is why we always recommend a full home energy audit by Home Energy Medics prior to implementing any efficiency measures. This will provide a full view of your house, it's systems and what can be done to improve ALL areas of your home. Best of all, we refund all or part of the audit cost when you choose to have us implement the solutions.

HEAR WHAT OUR CUSTOMERS HAVE TO SAY
Home Energy Medics did a wonderful job on our house. We now have much better heating and cooling. The original audit was very revealing of heat leakage points throughout the house. I had no idea that recessed lighting "cans" could leak so much outside air into the house.