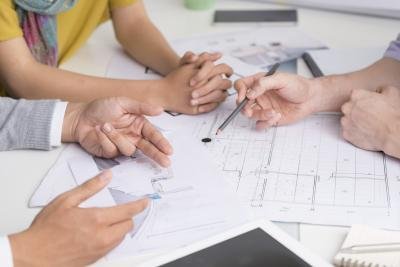 Looking for some advice on your next home upgrade project? Need a second opinion on a high-efficiency product you are considering? Home Energy Medics is your go-to for exceptional consultation services in the Northern VA, Maryland and Washington, DC areas.
EVALUATING YOUR PROJECT
Let us schedule a consultation to assess your home's present condition. Whether it's assessing new design plans, evaluating an existing structure, or otherwise, we'll act as your advocate to make sure your project is planned appropriately. Our team will be sure to work collaboratively with other involved parties (including the architect) to make sure everyone is on the same page and up to speed on the needs of your project.
GETTING THE JOB DONE RIGHT
Our consultation team will come up with a custom-made solution for you based on the scope of your project. If it's a one-time issue that needs our advice, we'll offer advice and provide a written report for your project, including appropriate references that will best suit the needs of your project. For more in-depth projects, we'll be sure to fully evaluate all the moving parts to help you find an optimal solution. We're here to help you make the best choices for your home project.
Get in touch with us to learn more about our consultation services and to schedule your appointment today!
Need expert advice on your construction project?
Consult with our experts before starting!
Looking for Duct Sealing? Did you know...
There is a substantial amount of energy loss when your HVAC system works overtime to make up for leaks and gaps in your ductwork. In addition to increased energy bills, the unnecessary strain on your system can significantly shorten its lifespan or lead to costly repairs. Air duct leaks can also create indoor air quality issues by allowing dust, allergens, and other pollutants easy access to the air circulating through your home. Having properly sealed ducts keeps these pollutants out of the air you breathe and balances temperatures, leaving your home feeling more comfortable.
HEAR WHAT OUR CUSTOMERS HAVE TO SAY
The crew did an excellent job. Everyone was so professional (on time, clean workspace, well mannered) they exceeded my expectations.