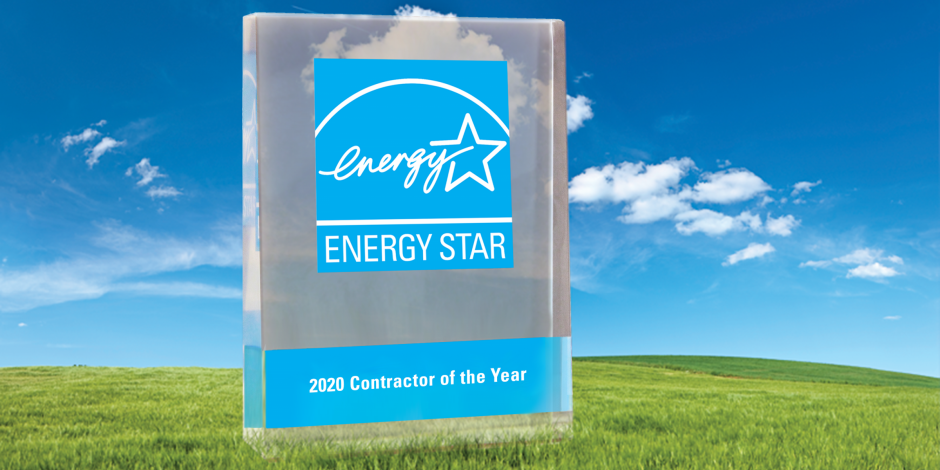 We're proud to announce that Home Energy Medics has won the Home Performance with ENERGY STAR Contractor of the Year Award for the second year in a row, for home performance and energy efficiency services performed throughout the metro DC, Maryland area and Northern Virginia.
We will be recognized by the U.S. Environmental Protection Agency (EPA) and the U.S. Department of Energy (DOE) with our second award crystal this April. 
"I salute the 2020 ENERGY STAR award winners," said Anne Idsal, EPA Principal Deputy Assistant Administrator for Air and Radiation. "These leaders demonstrate how energy efficiency drives economic competitiveness in tandem with environmental protection."
Home Performance with ENERGY STAR Contractor of the Year is awarded to Home Performance with ENERGY STAR (HPwES) participating contractors that exhibit outstanding professionalism, build strong customer relationships, and apply building science solutions to improve homes.
For a complete list of 2020 winners and more information about ENERGY STAR's awards program, visit energystar.gov/awardwinners.
What is ENERGY STAR?
ENERGY STAR® is a program run by the DOE and the EPA that helps promote energy efficiency, providing simple, credible, and unbiased information that consumers and businesses rely on to make well-informed decisions. You may recognize the ENERGY STAR logo—it's used on electronics and appliances (including air conditioners, furnaces, water heaters, and many other home mechanical equipment) that meet rigorous energy efficiency standards.
Since 1992, ENERGY STAR and its thousands of partners have helped American families and businesses save more than 4 trillion kilowatt-hours of electricity and achieve over 3.5 billion metric tons of greenhouse gas reductions. In 2018 alone, ENERGY STAR and its partners helped Americans avoid nearly $35 billion in energy costs.
Trust the Award-Winning Team at Home Energy Medics
To the team at Home Energy Medics, being recognized with this national award two years in a row is the cherry on top of our work helping homeowners lower heating and cooling costs, raise home comfort, and improve their indoor air quality. Using cutting edge building science principles, our attention is on the customers: diagnosing your problem, making educated recommendations to fix the problem, and carrying out professional work we stand behind 100% for years to come.

Reach out to the award-winning building science experts at Home Energy Medics today. Call (703) 447-5379 or contact us and tell us how we can help your home.
Find out what our award-winning services can do for you.
Talk to a Home Energy Medics team member today.
Looking for Insulation? Did you know...
Just looking for additional insulation in your attic or sealing up air leaks? Did you know that making certain changes to your home can result in unforeseen consequences? That is why we always recommend a full home energy audit by Home Energy Medics prior to implementing any efficiency measures. This will provide a full view of your house, it's systems and what can be done to improve ALL areas of your home. Best of all, we refund all or part of the audit cost when you choose to have us implement the solutions.

HEAR WHAT OUR CUSTOMERS HAVE TO SAY
The crew did an excellent job. Everyone was so professional (on time, clean workspace, well mannered) they exceeded my expectations. I'm no longer using my dehumidifier and the air on the upper level is soooo much better.