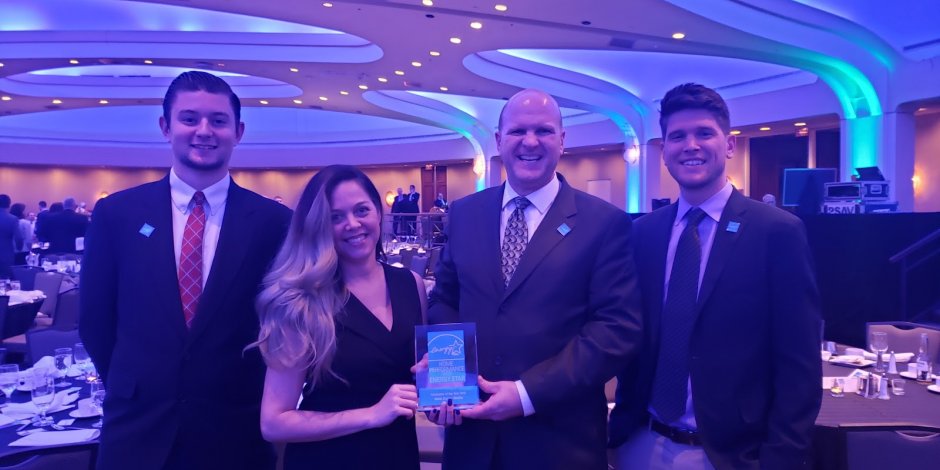 We are proud to announce that Home Energy Medics has received the U.S. Environmental Protection Agency's 2019 ENERGY STAR® Home Performance Contractor of the Year Award! We have earned this award for our outstanding efforts to make Northern Virginia and DC area homes more energy efficient with building science based improvements. Home Energy Medics is one of only a select few contractors in the nation to receive this prestigious honor in 2019.
Home Energy Medics' accomplishments will be recognized by the U.S. Environmental Protection Agency and the U.S. Department of Energy at a ceremony in Washington, D.C. on April 11, 2019.

"I applaud the 2019 ENERGY STAR Award Winners," said EPA Assistant Administrator for Air and Radiation Bill Wehrum. "Their innovation and leadership enhance America's economic competitiveness. Reducing costly energy waste improves air quality and public health while protecting the environment."
The title of Home Performance with ENERGY STAR Contractor of the Year is awarded to Home Performance with ENERGY STAR (HPwES) participating contractors that exhibit outstanding professionalism, build strong customer relationships, and apply building science solutions to improve homes.
For a complete list of 2019 winners and more information about ENERGY STAR's awards program, visit the ENERGY STAR website.
About ENERGY STAR
Many of our customers in Northern Virginia and DC recognize the blue ENERGY STAR logo but wonder what they can gain from choosing a Home Performance with Energy Star contractor. ENERGY STAR is the government-backed symbol for energy efficiency, providing simple, credible, and unbiased information that consumers and businesses rely on to make well-informed decisions.
To date, Home Performance with ENERGY STAR has saved enough energy to power more than 128,000 homes for one year. What's more, is that completing a Home Performance with ENERGY STAR project on your home can save you $500 per year!
As an HPwES contractor, Home Energy Medics offers trusted, building science-based solutions that are proven to conserve more energy, reduce energy costs, and improve indoor comfort. If you're looking to improve your home with a trusted contractor who understands how to implement solutions using the whole home approach, get in touch with our team!
Looking to save more energy and bring the power of ENERGY STAR into your home? Our award-winning team is here to help. Call (703) 447-5379 or contact us to schedule a consultation!
Looking for a trusted home performance contractor in VA or DC?
Our award-winning team is here to help.
Looking for Insulation? Did you know...
Just looking for additional insulation in your attic or sealing up air leaks? Did you know that making certain changes to your home can result in unforeseen consequences? That is why we always recommend a full home energy audit by Home Energy Medics prior to implementing any efficiency measures. This will provide a full view of your house, it's systems and what can be done to improve ALL areas of your home. Best of all, we refund all or part of the audit cost when you choose to have us implement the solutions.

HEAR WHAT OUR CUSTOMERS HAVE TO SAY
The crew did an excellent job. Everyone was so professional (on time, clean workspace, well mannered) they exceeded my expectations. I'm no longer using my dehumidifier and the air on the upper level is soooo much better.